In just one day, a day that could be solemnly called black Sunday,  September 13, 2020,  the death knell rang in Yenagoa-Kolokuma/Opokuma Federal Constituency. With thy sting, death took four eminent personalities from the Constituency, all from Yenagoa Local Government Area of Bayelsa State.
CHIEF ODUMGBA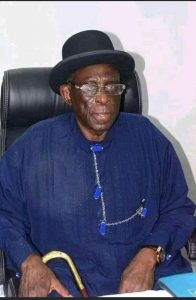 Chief Godwin M. Odumgba, the Adukali One of Epie Kingdom succumbed to the cold hands of death. But, he conquered death because of his desire to pass on peacefully, without subjecting his children or any other persons to too much stress and futile expenses. This, he expressed to me, all the times I visited him on his bed at the Federal Medical Centre (FMC) in Yenagoa.  He felt that he has done his part on earth, and should bow out of the Shakespearean vast stage, on which all the men are players, and must one day leave.
Chief Odumgba was a father and mentor to me and many others. An unassuming man, he supported me in everything I needed his support, even up to his last days in life. For instance, he chaired the Azaiki Foundation from the beginning and participated in its activities, as well as attended my constituency reach-out programmes as a Special Guest of Honour and Chairman until his last moments in life.
As an American groomed business graduate, precisely in marketing, as well as former marketing manager in Nigerian National Petroleum Corporation (NNPC) in its early years, Chief Odumgba brought his knowledge to bear in his private business endeavours, and also readily guided others to do the same.
His entry in politics also came with emphasis on ethical standards and service to the people, a philosophy that inspired him to try to take a shot at the Bayelsa Governorship position in 2003.
I have not only benefited from the knowledge and wise counsel of the late sage and custodian of the Epie culture, but the Azaiki Foundation which he chaired from the beginning until his demise equally gained a lot from him.
He has gone. But we are comforted by the remarkable legacies he has left behind, and his last words that: One goes, another comes".
MADAM  MABINTON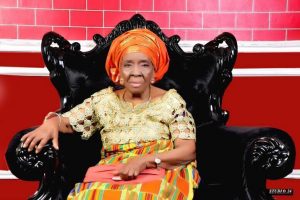 Madam Rose Mabinton, also hearkened to God's call, same day. A loving and caring mother in the Mabinton family, she by God's grace, persevered in life and lived on, many years after the death of her husband, HRM (King) M. B. W Mabinton, the then Ebenibe of Atissa Kingdom. This is a feat not achieved by many widows.
 Madam Rose, was a mother to all. Her presence kept the memories of the late King Mabinton, fresh in our minds. Though gone to be with the Almighty God, her memories and those of her husband will remain unforgettable.
PROF. OKOKO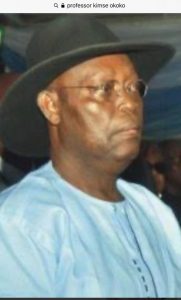 We have also lost foremost Izon political scientist, crusader of Niger Delta People's rights in a perverted and exploitative  federal system and  leader of the Izons on various planks such as Ijaw Natural Congress (INC), Bayelsa State Creation Movement, Bayelsa Elders Forum (BAYEF), vocal delegate at the 2014 National Conference, Pan Niger Delta Forum (PANDEF) and lots more.
Late Kimse Okoko's passage to the great beyond is a huge lose, not only to his family, Obunaghan Community in Gbarain Clan of Yenagoa Local Government Area, but also to the Yelga/Kolga Federal Constituency, Bayelsa State, Izon Nation, Niger Delta and Nigeria.
His critical and vocal analyses and expose` of the social, economic and environmental injustices meted against the oil-rich but impoverished Bayelsa State and the  Niger Delta which have been the main source of Nigeria's revenue without commensurate development in the areas, will for ever be missed. No matter how old, his presence, would have still been of use. Notwithstanding, his academic works and conference papers would outlive him, and serve as useful reference points for ideas that would one day lead to positive change.
Dear Prof. Okoko, we loved you, and wanted you to live on if wishes were horses for men to  ride, but God loves you most, and He has taken you. Rest peacefully in the bosom of the Lord, eternally.
DR. MICHAEL OGBOLOSINGHA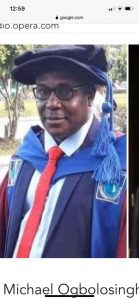 Mike as we fondly called him, was an amiable, easy-going, brisk jolly good brother, colleague and friend to all, yet the cold hands of death snatched him away from us.
 An academic in theater studies and  ace thespian, with inextinguishable interest in comedy, he was one of the brainchild of Night of A Thousand Laughs which debut in Lagos as a stand-up show and circulated its engaging comedy skits in Compact Disc plates, the harbinger of what has today blossomed into a big trade for many comedians and commediens. He was also a compeer of high value.
Aside from these, he was a politician to reckon with. He played administrative and advisory  roles, as  Chairman of Yenagoa Local Government Council and to the state government in different regimes.
 Mike made us proud  in his entertainment, political and administrative outings, while alive.
 He was  the  Chairman of Peoples Democratic Party's Bayelsa Central Publicity Committee for the 2019 general elections as well as member/spokesman  of the Central Working Committee of the Azaiki Campaign Organization for 2019 House of Representatives election.
 The passing away of this resourceful, vibrant and industrious brother and friend, at an age he was needed most for more services to his family, Okordia and Zarama, Yelga/Kolga, Bayelsa Central, the state, Izon Nation and Nigeria is very painful to all of us. But, God knows best.
May his gentle soul rest in the bosom of the Almighty Father.
On behalf of myself, my family and the good people of Yelga/Kolga Federal Constituency, I express deep commiserations to the bereaved families, communities, clans, Yenagoa Local Government Area,  Bayelsa State and Governor Douye Diri, for the demise of all the illustrious personalities.
May God grant all the bereaved, the fortitude to bear the loses.